To make an
Estimated Tax

payment today…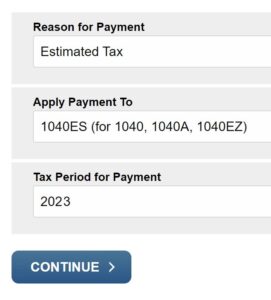 Jump to Direct Pay

Or go to IRS.gov, Select Make a Payment, then Pay Now with Direct Pay, Make a Payment

Select the Reason for Payment, Type of Tax, and Tax Year as indicated here ->
Verify Identity

The next screen will ask you to verify your identity using a prior year tax return. You can select 2020 or 2021. Enter the address and filing status based on the chosen tax year.
REMEMBER, you are paying

2023

tax, just using 2020 or 2021 to verify identity. If you select 2020, be sure to use the address that was on your 2020 tax return if different than your current address. The address must match exactly.

Payment

Enter your banking information to make the payment, it may ask you to confirm your SSN again.

Confirmation Page

Print a PDF of the webpage confirmation. Please note the email confirmation does not show the amount, so you will need to save this page.
Upload the confirmation to me in your Client Portal.